I really didn't want this blog to turn into a pregnancy blog. So I'll try and keep the preggo/belly updates to a minimum. But before I do that, here are my belly shots for 16 weeks.

2 seconds after this picture, Caitlyn put a necklace on my head. I purposely put on the jeans I wore in my last set of pictures in order to see my belly better.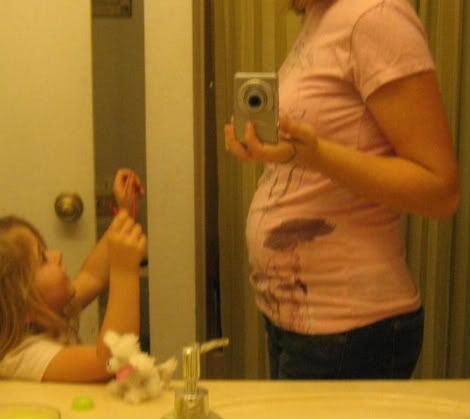 after I changed back into my maternity jeans, which are still big but I'm wearing them today to be comfy. Here's a *gasp* bare belly picture. brace yourselves.




I feel so huge at 16 weeks, I don't remember being this big so soon with my last two. Trust me I know I'm not huge but it's still strange for me.

Ok now on to more interesting topics. I'm finally getting back into our routine after a nice long holiday break. PWOC started back up, which will keep me busy, playdates started back up, and yup it's time to spring soccer signups! Brogan's very excited to go back to his team although we are bummed he won't be able to finish out the season due to us moving. I do promise to take more pictures and do more blogs of his soccer this time.

Today is Friday so that means...Family night! The most treasured night for our family since time with Kell is precious. He has a half day today so we plan on soaking him up as much as we can.

I've also started a decluttering process of my home. Since we're moving in April, I'm on a time crunch cause I don't like to rush. So every weekend I work on decluttering one room. I will post before and after photos as I go along. I did however forget to take pictures from last weekend's success. Sorry!

Oh and I will report back on that dreamsicle cake! Have a great weekend!