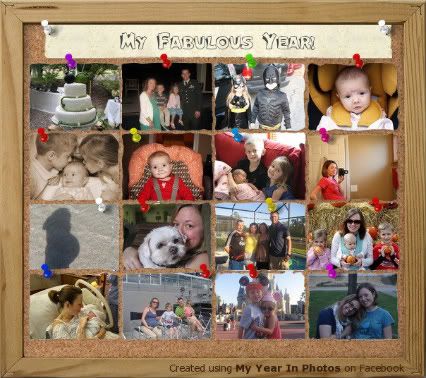 I meant to post this last night but due to a fussy and sick baby, I completely forgot. I know 2009 was a horrible year for many people in my life. But I must say 2009 was really good to my family and I.

~My husband graduated phase 1 of the PA program gaining his 2ND bachelors.
~We moved from San Antonio, Texas to Ft. Knox, Kentucky allowing us to be close to family for a year.
~I got the chance to meet up with my 3 best friends. Lou and Paul who were visiting from the UK, Stephanie whom I visited in FL, and lastly Roxanne and Josh.
~We took the kids to Disney and had an amazing time!
~Ryleigh joined our family in July!
~Enjoyed a wonderful visit from my mother-in-law and sister-in-law. Also meeting my nephew finally!
~Got the chance to meet my biological grandmother, aunt, uncles, cousins, etc!
~Had a fabulous vacation in Pittsburgh for Roxanne and Josh's wedding. Which I was maid of honor and made her gorgeous cake! :P
~Saw my little sister not once but twice this year!
~Made new friends!
~Lastly and most importantly, I spent the year loving God, my husband, and children every single day.

I know 2010 will be an even better year for us. My husband will finally graduate the PA program in May with his Masters. Also we will make yet another move to a location unknown at the moment. We are ready for a new adventure in our life.

Happy New Year everyone! Many blessings to you and your families!