It's time to redo some things in my life. Recently I've fallen in love with the Eat, Live, Run blog that lots of people I know read..yes I realize I'm late to the bandwagon. But Jenna's blog is helping me realize I want to change some of my habits. Starting tomorrow, hubby and I will be changing the way we eat. While we have mostly cut out white flour, I plan to become a little more strict about this. Eat more fruits and veggies, snack on healthy fats and proteins, try and eat as "clean" as we can. Absolutely no more fast food or processed foods, we are also giving up our beloved soft drinks. I'm am personally "redecorating" the food I eat.

It's also time I get back into running. I haven't ran in almost 10 years. Not since running track in high school. So Kell has put together a running schedule/plan for me to follow to build myself back up. He, himself, has been trying to train for a couple of upcoming races. I'd love to one day join him in one. So I'm "redecorating" my health.

Since returning from Pittsburgh...which I fell in love with...I've decided to try and simplify things. I've been slowly going through things the past couple of months but have decided it's time to kick it up a notch and really go back to the basics. Meaning, do I really need full drawers and closets of clothes when I really only wear the same 10-15 items over and over? Do I really need the 10 purses that are in my closet, even though I haven't used them in years? do I need half of the things in my junk drawer, or night stand drawer? No, No and No. It's time to clean it all out. "redecorate"

Last but not least..actual redecorating. Not every room since my living room, bedroom, and kids room did just get a facelift. But thanks to Roxanne and her wonderful decorating for her wedding, I've got this big urge to redo the color scheme of my kitchen. My kitchen has always been a mish mosh of "chef's" and "wine" stuff, with rich colors. It's time to lighten the mood a bit. Here's the photo for my inspiration.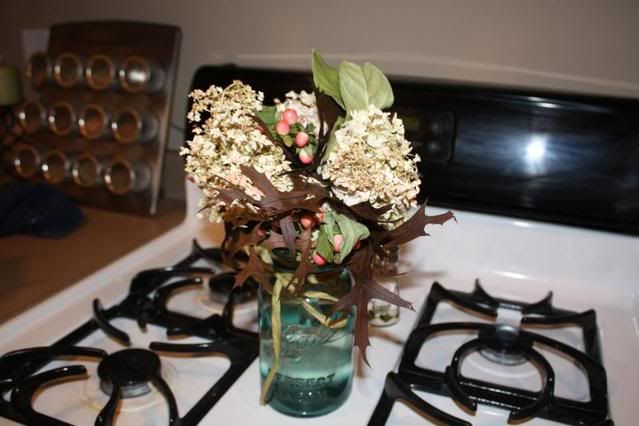 I'm loving the blue tinted mason jar..with some creams and white.....

Time to Redecorate!