Oh boy it's been a busy couple of days. As my title says, I'm blogging this morning from our sweet suite hotel room in Pittsburgh. One of my very best friends got married last night. I was her matron of honor and also had the pleasure of making her wedding cake. The day was perfect! The weather was amazing. She has some of the most awesome friends and family and I was so honored to be surrounded by such wonderful people yesterday. Every single detail of her wedding, down to the tiniest details were simply stunning and a complete reflection of the bride's personality and love for nature. I can't wait to see pictures from the photographer. I was so busy running around doing matron of honor stuff that I didn't have a chance to take any pictures! Although I do have pictures of the cake. Of course!

Here's a little explanation about the toppers. Her husband is in EOD school right now, for those that don't know what that is, he learns about bombs all day. Roxanne love knitting. It's her life, it's in her blood. So their toppers are unique and orginal but a complete reflection of them. I hope you love this cake as much as I do. It's by far my favorite cake I've done. Oh and when you see the picture, don't pay attention to what the cake is sitting on. The caterer was the one to put the cake on the log and she put the turntable (which is only used in the decorating process in order to spin the cake around) on the log as well. Which she wasn't supposed to do but I didn't even notice she did it, until after the cake was cut! oh well. I loved the caterer so I'll forgive her. :)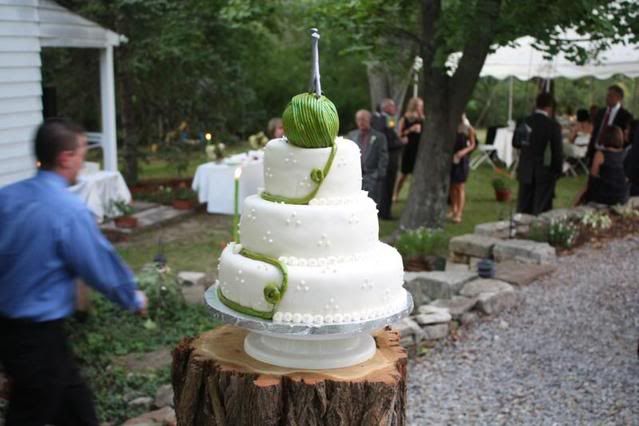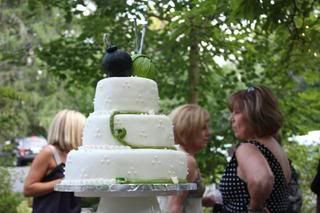 We head back home tomorrow (we've been here since Tuesday). I'll be sad to leave but it will be nice to relax at home. I can't wait to catch up on blogs when I return home.