Next weekend we pick up our newest family member. Meet Sophie!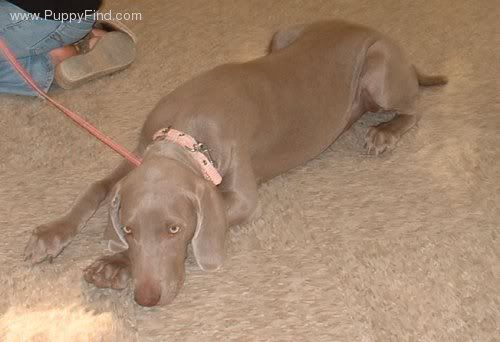 Isn't she precious! They say she's very shy, timid, sensitive, yet playful like a puppy should be. She's 6 months old, and already housebroken...yay! The lady selling her has medical issues and can't take care of her the way she thought she could.

We have a soft spot for Weimaraners. They are our favorite dog. When Kell and I first got together, he had a Weim. Beautiful great dog! But while Kell was in basic training the Weim got loose (a friend of mine was letting him outside while I was at work and he got away from her). I searched for weeks. I went to every pound, SPCA, humane society, etc looking for him. I put out flyers. I know someone must have found him and kept him. Which makes me sad. Kell was heartbroken. I swore to him one day we'd get another weim but we had kept putting it off. Finally I agreed it was time for a new addition. I figured since we won't be trying for a third baby for a little while, why not get a new dog! Yes I'm crazy..get over it. :P Anyway enough rambling, I'm just so excited to get her. I'm in love already.

~~~~~~~~~~~~~~~~~~~~~~~~~~~~~~~~~~~~~~~~~~~~~~~~~~~
I hope everyone has a great Friday! I did some shopping this morning....used canvas bags for everything ;)......treated the kids to lunch....now I'm about to do some housework. Kell gets off work early today so he's going to play with the kids in the pool when he gets home. Tonight being our traditional family night, we always have pizza..fun!