I babysat for a friend of mine yesterday. Her daughter was in Brogan's class this past year and her son is a year younger than Caitlyn. People always looked at us funny at school with our 4 blonde hair, blue eyed kids. I think people thought we were related somehow. What do you think? Think our kids could pass as family?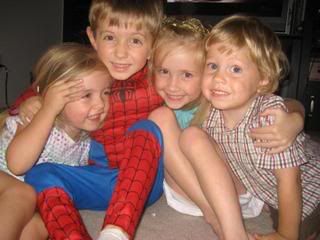 I should mention that Brogan and Morgan are totally in love with each other. It's quite cute actually. When they play together, they pretend they are married. Lori and I have even caught them kissing (a peck) in the school courtyard. Boy I'm in trouble if it's starting this early.



Anyway today was a nice hot day. Too hot and sticky for my taste but oh well. We went to a playdate at the fabulous Sprinkler Park on post at Ft. Sam. The kids always have a blast and it wears them out. Us mommies get to have adult talk and occasionally one of us will run through the sprinklers with the kids. The Sprinkler Park is my favorite playdate activity. Whoever thought of it is brillant.