I've had this recipe saved in my "to try" box for quite some time. I finally decided to give it a go. I'm so glad I did.

Whatever Floats Your Boat Brownies (credit Karen from recipezaar.com)

Ingredients

1/2 cup butter, melted
1/2 cup unsweetened cocoa
1 cup sugar
2 eggs
2 teaspoons vanilla
1/2 cup flour
1/4 teaspoon salt

WHATEVER FLOATS YOUR BOAT
1-2 cup chocolate chips (semisweet, white, butterscotch, peanut butter) or raisins or chopped maraschino cherry or chopped nuts or M&M' or Reese's pieces or miniature marshmallow

Directions

Preheat oven to 350°F.

Grease an 8 inch square pan or line with foil.

In a medium bowl combine melted butter and cocoa and stir until cocoa is dissolved.

Add sugar and mix well.

Add eggs one at a time and stir until well combined.

Stir in vanilla, flour and salt until you no longer see any flour (do not overmix).

Fold in "WHATEVER FLOATS YOUR BOAT"!

Spread in pan and bake for approximately 25 minutes.

DO NOT OVER-BAKE -- your brownies will come out dry. Adjust time/temp accordingly for your oven. If you do the knife/toothpick test, it should come out with moist crumbs, not clean.

Cool completely before cutting into squares.


My "Whatever Floats Your Boat" was 1 1/2 cups of milk chocolate chips. I then decided to add a "cheesecake topping".

8ozs of softened cream cheese
1 egg
1/2 cup of sugar

Beat the 3 ingredients together until smooth. It will be kind of runny. After you've put the brownie batter in the pan, top with the cheesecake mixture. Swirl cheesecake around in the brownie batter to create a marbeled look. I had to bake the brownies a lot longer then the recommended 25 minutes noted above because of the cheesecake mixture. I didn't time them but they definitely cooked for atleast 40 minutes. Just keep an eye on them and check with a tooth pick.

Marbeling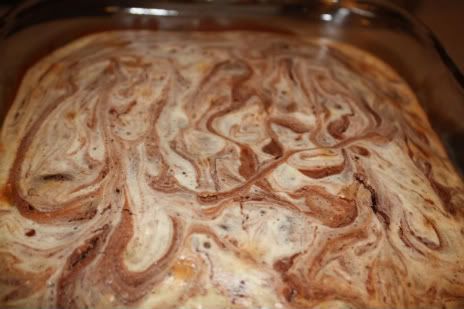 They were very moist and chewy and thick. Great flavors.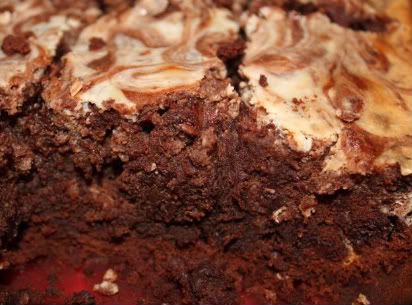 Here's a piece just for you....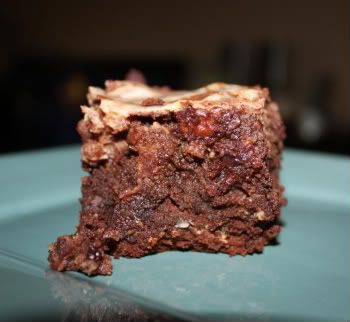 So What Floats Your Boat???