I got this recipe out of a Better Homes and Garden sometime last summer. It's so light and yummy. Perfect recipe for summer. Pair it with some crisp white wine or some yummy lemonade.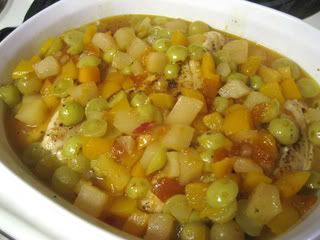 4 4-oz. fresh or frozen skinless
tilapia
or
sole
fillets
Salt
and
pepper
2 Tbsp. cooking oil
1 cup seedless green grapes
1/2 cup tropical
blend
mixed
dried fruit
bits
1/3 cup sliced green
onions
1/3 cup
apricot
spreadable
fruit
Cooked
brown
rice
(optional)
Directions
1. Thaw fish if frozen. Rinse fish; pat dry with paper towels.
Season
with salt and pepper.
2. In a 12-inch skillet heat oil over medium-high heat; add fish. Cook 3 to 4 minutes or until fish flakes easily, turning once. Meanwhile, halve grapes.
3. Transfer fish to platter; keep warm. Add grapes, fruit bits, onions, and spreadable fruit to skillet; cook and
stir
2 minutes. Season to taste with salt and pepper. Serve
sauce
over fish. Makes 4 servings.
I don't know why certain words are highlighted and underlined. I didn't do that. haha. Anyway I don't follow the recipe exactly. The first time I made it, I did but I hated the dried fruit. So I use either canned or fresh tropical fruit instead. Much better that way. I don't use green onions because I dislike them. I also don't measure anything. :P I like lots of sauce and fruit. My entire family loves this! Yes this is what we had for dinner tonight. yummm